Erich M. Fabricius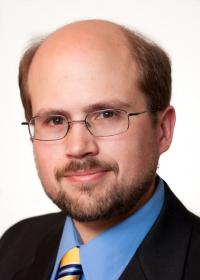 Contact Information
Other Profiles
Attorney Erich M. Fabricius is a member of Fabricius & Fabricius PLLC.
Erich leads the bankruptcy and litigation departments of Fabricius & Fabricius PLLC. He is a Board Certified Specialist in Consumer Bankruptcy Law, as certified by the North Carolina Board of Legal Specialization. His principal practice area is bankruptcy, and he has maintained a primary focus on bankruptcy his entire career as a licensed attorney in North Carolina. Erich also represents clients in civil litigation, including debt collection cases, business disputes, and under consumer protection statutes. His bankruptcy expertise is complementary when he assists non-bankruptcy clients with debt disputes.
After law school, Erich began his career by serving as a law clerk at the United States Bankruptcy Court for two years. During this clerkship, he had hands-on exposure to hundreds of bankruptcy cases of all shapes and sizes. From this experience, he has gained extensive knowledge of the United States Bankruptcy Code, as well as many practical insights enabling him to serve his clients more efficiently and more effectively. Erich is willing to take on complex and difficult cases to advance client objectives. He is admitted to practice before federal courts in the Eastern and Middle Districts of North Carolina as well as North Carolina state courts.
A native North Carolinian, Erich grew up in the mountain town of Hendersonville. He graduated from Hendersonville High School and moved east to attend North Carolina State University. At North Carolina State University, he was active on campus, including serving a term as Student Senate President, the vice-president of student body. His service in Student Government taught him that having an effective advocate working on one's behalf is important to every person.
Erich attended the University of North Carolina at Chapel Hill for law school, graduating with honors. He fine-tuned his legal research and writing skills serving on the North Carolina Journal of Law and Technology, where he had two papers published. During his third year, he participated in the school's externship program, where he had the opportunity to assist Chief Judge Martin at the North Carolina Court of Appeals and to work with small business at the North Carolina Small Business and Technology Development Center.
Erich resides in Knightdale with his wife Stephanie, also a member of the firm, and their four children. He is a member of Colonial Baptist Church of Cary, NC.