Bankruptcy Site Launched at www.eastwakebankruptcy.com
Wed, Nov 30 2011 - 9:48am
by Fabricius & Fabricius Staff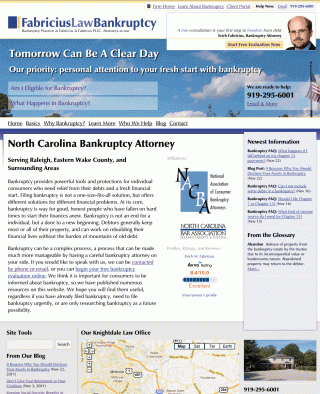 Fabricius & Fabricius PLLC has launched www.eastwakebankruptcy.com, our new bankruptcy website. This new website, which is tightly integrated with our main website at www.fabriciuslaw.com, provides resources and information to individuals contemplating filing bankruptcy in North Carolina. There are already dozens of pages included at launch, with more bankruptcy content to come online over the next several weeks, authored by our bankruptcy lawyer Erich Fabricius.
Some features of particular interest include:
We appreciate the difficult decision that people face when choosing whether to file bankruptcy. Our goal when publishing bankruptcy information is to help people become more aware of their legal rights and options. While a website is no substitute for a careful attorney evaluation of one's particular circumstances, we believe that better informed clients are best able to exercise the personal engagement a successful bankruptcy case often requires.